Beauty Island fashion underwear chain stores in Shenzhen Shajing and a grand opening
Warm congratulations to Beauty Island Lingerie chain stores in Shenzhen manhole and a store grand opening! Beauty Island 19 yuan fashion underwear concept store, is the flagship 19 yuan fashion underwear and other high-end home products hot chain model. With more than 1,000 models 19 yuan fashion boutique underwear, is the history of the most styles, the lowest price, the largest national underwear chain brand.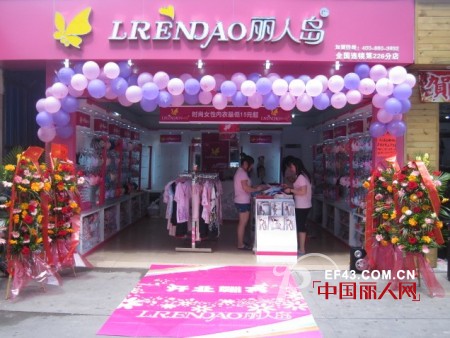 Shenzhen Beauty Island underwear Co., Ltd. was established in 2005, is a collection research and development underwear design, production and sales, joining services in one of the large-scale chain Monopoly-based enterprises. The company owns underwear brands such as Colorful Beauty Island, Pink Memory, Romantic Beauty Island, Color Pose Qi and LIRENDAO. Its products cover bras, underwear, body suit, home wear, thermal underwear, camisole and hosiery.
Over the past five years, with the joint efforts of all staff, nearly 200 fashion underwear chain stores have been set up in more than 30 cities nationwide. The company has more than one thousand employees, not only has the traditional basic production equipment, but also from Taiwan, Germany, Italy and other places to import world-class advanced production equipment and has attracted many professional and technical personnel and management personnel, established Improve the quality management system, become the largest and most professional large-scale fashion lingerie chain one of the enterprises.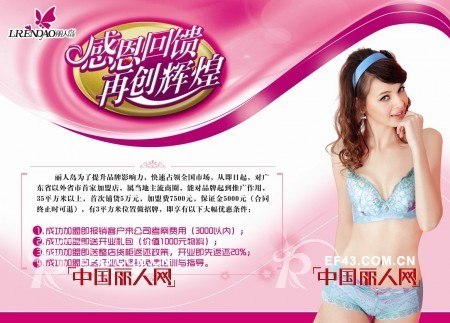 Over the years, the company adhering to the "low price, high quality, customer first" service concept, with great concentration on business innovation, the first 19 yuan parity underwear chain mode, ending the lucrative era of underwear in the country set off an upsurge of buying panic, by million Thousands of fashionable women sought after, continue to create a sales miracle. Small profits but quick turnover of the chain model to bring a huge sales, to achieve the absolute advantage of low-cost products, so that the entire system to a healthy operation.
Beauty Island underwear is cheap, stylish, comfortable, the quality of the endorsement, the company pursued the perfect combination of low prices and high quality, refused to low-cost low-quality speculative management, business objectives and purpose is to establish a unified, orderly, stable and healthy development National chain store, and plans in 3-5 years, "join the beauty Island, to create a win-win" principle, the development of direct sales stores, franchise stores and franchise chain of more than 1,000, to achieve leaps and bounds Expected goals.
Looking to the future, the Beauty Island underwear will continue to "parity, fashion, comfort, quality," the concept of continuous introduction of new products and continuously enhance the core competitiveness of the brand, for Chinese women to bring more both high-end quality and taste of elegant parity of health Underwear, so that more fashion beauty beauty women to share beauty Island life.
This kind of shoes high comfort, high quality, affordable, favored by domestic and foreign customers high praise.
Baby Happy here, we are baby and kid shoes leading supplier in China for 10 years. Serving for Robbeez, Disney etc brands.
High quatity is our core value and earnest promise.
All leather pass US CUSTOMS TEST, and the factory has passed the EU BSCI certification.
Rubber Sole Shoes,Hard Sole Sandals, Kids Sandals
Shenzhen Baby Happy Industrial Co.,LTD , https://www.babyshoes.cc