Shu Langqing "51" Literary Gala cum 2011 Award Ceremony
Sunshine on the road, Choulan people singing together
Scholanger celebrated May Day Labor Day Literary Gala and 2011 Annual Award Ceremony
In the colorful season , blooming colorful chapter. Scholarain May 1st Literary Gala and 2011 Annual Prize Ceremony Held in Mianyang Olympic Sea Olympic Club to celebrate 51 May International Labor Day and commend outstanding individuals and outstanding teams that emerged in Scholar's development in 2011 and mobilize all staff to carry forward further Shulang spirit, in order to promote the development of Shu Lang and strive . Mr. Wu Jianmin Choulan chairman with enterprise executives and three thousand employees attended this evening, from across the country to join, VIP customers and the community together also Dramas sun, Choulan beauty, bid farewell to a glorious 2011 together to meet the wonderful 2012.
On the occasion of May Day International Labor Day , Shulan held May Day Art Gala and 2011 Awards Ceremony to celebrate this grand occasion . In 2011 , Shurang tells the story of tradition and innovation , composing the brand endowment and quality endogenous , Shurang people with confidence and responsibility to create Shulang brilliant , with wisdom and passion to write a chapter of struggle , with flowers and Rainbow together painted brilliant fashion. In 2012 , let Shulang smear the apparel industry; 2012 , let Shulang fashion charm touched the world .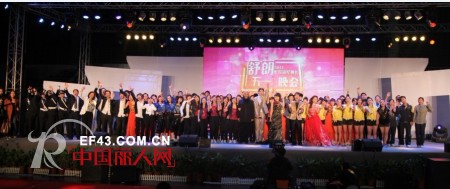 In the party scene, positive and joyful celebration of a thick atmosphere of infection with the audience, to be dedicated to the majority of employees of a "Festival cultural feast." Evening through songs, dance, sketch , crosstalk, drama, musicals and other stage art form , enthusiastic praise workers great character and Shurangama spirit . The party climax after another, the opening scene song and dance " We have the power " opened the evening's prelude , they played a symphony of pots and pans, or clean every corner of Shurang, or stick in the booth, or running around in the traffic lights among the audience into the fiery labor scene, showing new life to create a better picture, sing the "glorious labor to create the great" the strongest voice of the times, not only inherits the spirit of the workers, and filled it with new meaning. Creative dance , hot dance skewer, musical "youth is busy" and "Shurangda people show", in a novel form, humorous language by the audience , full of creativity and vibrant young people, vibrant era.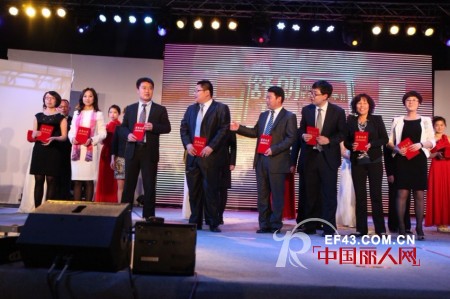 Evening , Shulan for the 2011 annual work, outstanding individuals and teams were commended, vigorously promote the excellence of the popular style, and further encourage and mobilize all employees to more actively join the Shulang fashion career to promote Shu Long continued development of harmonious development across the development. During the interview, the relevant person in charge of the company told the reporter that a total of 17 awards such as the Meritorious Person Award, the President Special Award, the Golden Button Award, the Excellent Employee Award , the Excellent Team and the Innovation Team were awarded to over 400 employees . It is worth mentioning that the recipients of the Golden Button Award have become the founders of various departments with wisdom and strength and practiced the cultural power of Sunshine, which is the goal and example of all the Scholars , especially the Merit Award Winner Miss Li Meng , Shoulan 12 years of employment, and companies with the storm, a total destiny, with unremitting efforts for the enterprise to create every fortune, will always be engraved in the annals of Shulan Enterprise .
Lu bud is Choulan an ordinary employee, by virtue of her outstanding performance, was awarded the Outstanding Staff Award. In an interview with reporters, she said: " I am very happy and very excited. I think it is also a recognition of the leadership to work for me. It is also a result of colleagues' support for each other's work during the year. I also hope that in the future work, I can express my thanksgiving to all of you in my work, and do a better job for me. I also hope that with a little bit of power, I will make Shulan better . "
As chairman and founder of the brand Choulan Wu Jianmin, when talking about the original intention of organizing this awards ceremony, he said: "Choulan won the China Innovation Award, is recognized by the fashion industry for Choulan in Choulan, who only. are the real masters, no Choulan staff, Choulan can not Wins innovation Award. So the board has repeatedly stretched when discussing winners, hoping that will honor this sense of joy to all of Choulan staff. "
It is reported that, a few days ago, at Jack 's eighth annual Chinese clothing brand awards ceremony, Shulan won the Jack of the eighth annual Chinese clothing brand awards - Innovation Award. Shulang can write the legend in the headwind, won the apparel industry, the " Brand of the Year Award " is not easy. Scholang won the award is bound to create a famous Chinese women's city in Yantai, boosting the garment industry in Shandong Province and the country 's transformation, upgrading and development have a positive impact.
Work to create the future, work great achievements. The annual rings are turning, Shulan people continue to act with dreams come true, the time is turning, Shurang people respect the tradition and create the future . "Five-second" new blueprint has been drawn, Choulan will embark on a new journey in the world Choulan sing song!
Flame retardant clothing are garments made of fabrics with flame retardant properties that protect workers from fire. According to the style can be divided into FR Coveralls, FR Jackets, Fr Shirts, Fr Pants , FR Suits , FR Bibs , FR knitted t-shirt and so on. Customers can choose the style that suits them according to their working environment, and we support ODM.Customers can design the flame retardant clothing styles they want for us to produce.
Advantages of flame retardant clothing:
Customized production
Have an embroidery factory
Provide free samples
Professional quality inspection team
Accessories of flame retardant clothing:
We have a professional procurement team with 10 years of overseas procurement experience. We can purchase global accessories according to customer requirements, collect and select materials from all major exhibitions, and provide you with the most cost-effective accessories!
Certification:
Xinke protective flame retardant clothing is suitable for your employees and required by law in wide industries and is regulated by numerous safety standards boards. Xinke Protective has acquired the certificates, such as ISO 9001, ISO 14000, SA 8000, WRAP, CE, UL.
Application:
Xinke protective flame retardant clothing are widely used in petroleum, chemical, natural gas, electric welding, fire protection, offshore operations and coal mining industries.
Quality is the soul of an enterprise, hope fully we can have a chance to serve you!
FAQ
Q: How to ensure your the delivery time?
A: -We have modern automated assembly lineproduction equipment, just 120 seconds is needed from the first process to the last one;
-Moreover,we have prepared finished fabrics which can be produced into clothes immediately to short the delivery time to15-20 days;
-Urgent order will be deal with immediately.
Q: What`s your payment terms?
A: EXW, FOB, CNF, CIF and L/C payment terms etc.
Other terms can be negotiated.
Q:Can you producesmallorders?
A:Yes,we do. If your order is smaller than our MOQ, we can arrange special for you but the cost would be higher.
Q: How to ensure your product quality?
A:We have the;the most advanced testing equipment. Two inspections are taken in the factory and the laboratoryto ensure that each batch ofproduct is with high quality.
Q: What`s your main market?
A: Our clients are all over the world, having mature market in Europe, Malaysia, Indonesia etc, exporting large quantity FR garments every month by container quantities.

Q: Do you provide the sample? How long it takes?
A: Sample can be provided.
Delivery time: Regular item in stock can be delivery in 1-2 days.
Your Customize will takes 7-10 days.
Q: Do you supply OEM service? Can you make as our design? Also I want to put our LOGO on protective clothing?
A: Yes, we can customize the design for you, which exactly as your demand.Your LOGO can be put on clothing by format of EMBROIDERY, SCREEN PRINTING etc as requested.

Q: How many times washing your FR garment can endure?
A: More than 50 washing time for Europe standard.
More than 100 washing time for NFPA standard.

Washing time can be customize according to require and market.
Q: Is that possible to be your agent or distributor?
A: Yes, of course. We are glad to work with you together to develop the market.
Feel free to contact us for more information.
We are the OEM manufacturer for FR Workwear, we are developing partners to occupy our market share.
Flame Retardant Garments,Fire Retardant Coverall,Flame Resistant Clothing,Fire Protective Clothing
Xinxiang Xinke Protective Technology Co, Ltd. , http://www.coverallsuit.com